Apple Music has been a streaming platform that works entirely on a subscription basis. It is more or less similar to the plans that Spotify has to offer. There are more than 60 million songs that you get access to, along with tons of advanced features. Additionally, you also get to listen to songs while you are offline. Therefore, you can stay disconnected from your WiFi most of the time. Apple Music Student Discount is the best thing Apple has started for students recently. Get to know more about it here.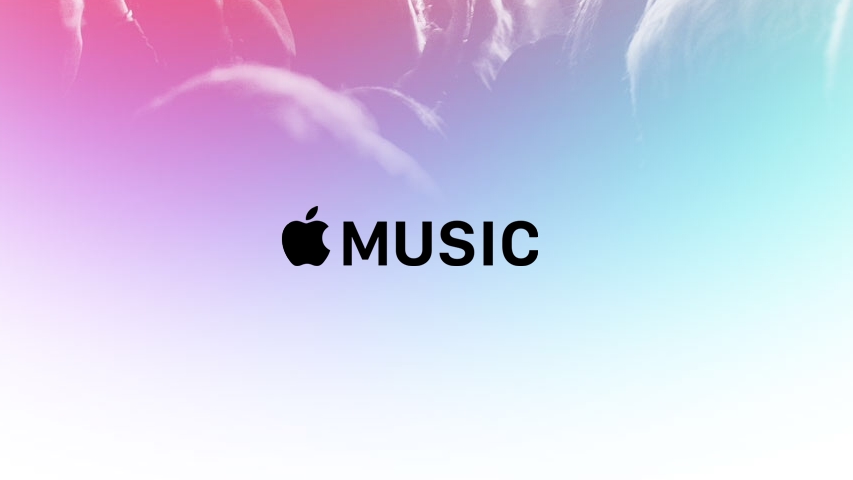 Being a student is tough, and do you know what is tougher? Well, subscription plans. As college students, it becomes very difficult to plan on getting all of our favorite subscriptions, isn't it? Apple has found a middle way to deal with this, too, and that's exactly what we are here to discuss, i.e., Apple Music Student Discount. Let's briefly know all about the plan and the way it works.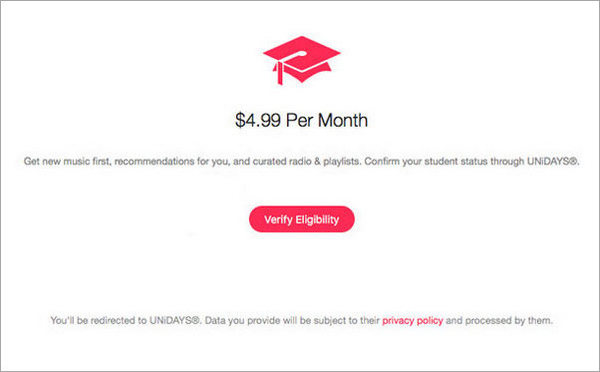 What is Apple Music Student Discount?
Apple Music has recently introduced a plan majorly for the students. The Apple Music Student Discount offers a discount of 50 percent to the students. It is primarily for students who belong to a college or university. Alternatively, you can also opt for the trial version post which you can decide if you really want to pay 50 percent of the service.
If you belong to the United States, the amount you have to pay for an individual subscription to Apple Music would be $9.99/month. Hence, if you are a student, you will have to pay just $4.99/month.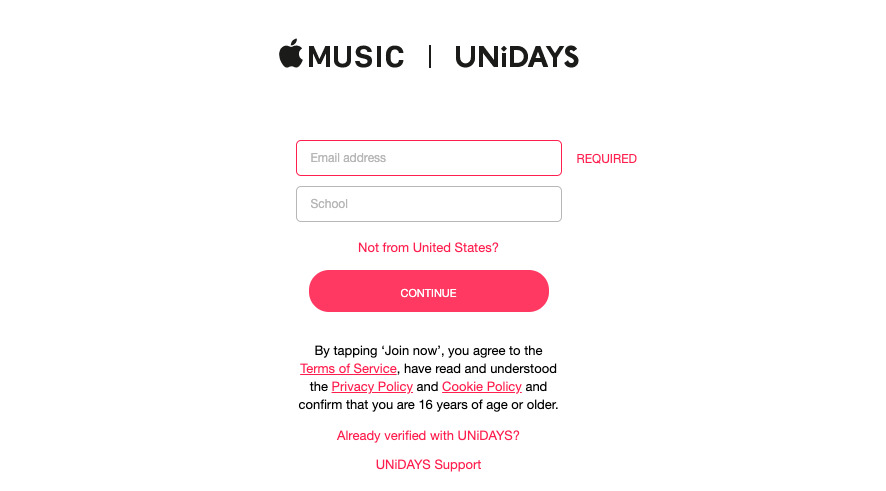 In addition to the U.S., if you belong to some other country, you still can take advantage of the plan, and the discount will still be available for you. The overall price of the subscription may vary in different states, but the discount will always be applicable if you are a student. 
What's more?
There are a few things that you need to know if you opt for the student discount. The discount is available for 4 years if you get it once. Once you successfully finish the four-year subscription, it will turn into a plan wherein you will have to pay the entire amount.
Therefore, Note that the Apple Music Student Discount works for you for a timespan of 4 years.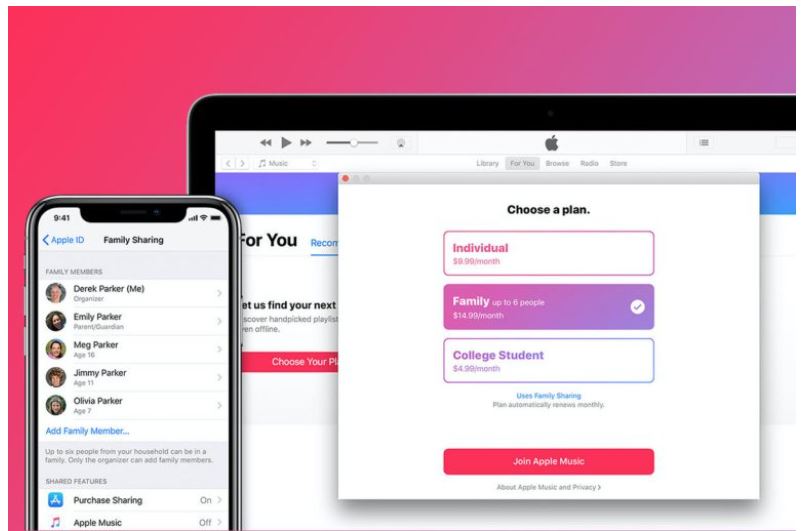 The 32 countries that Apple Music expands its reach to include – Australia, New Zealand, Austria, Russia, United States, United Kingdom, Chile, Norway, Ireland, India, Mexico, Spain, United Arab Emirates, Singapore, Finland, France, Thailand, Sweden, Belgium, Switzerland, South Africa, Indonesia, Denmark, Germany, Japan, Canada, China, Colombia.
How to Get Apple Music Student Discount?
Third parties like Unidays are incorporated with Apple Music, which helps in enrolment verification. Therefore, for you to qualify for the membership, you must be a part of an institution and a part of a validation service like Unidays.
Additionally, Apple also ensures to re-evaluate your status. This is because just in case you are no longer a student, a membership charge of $9.99/month will be charged after that.
Here are a few pointers that you must keep in mind before joining:-
If you own an iPad, iPad Touch, or iPhone, you definitely need to update your iOS version. Simultaneously, you can also get your hands on iTunes latest version either on your PC or Mac.
Update your Android phone to a version that is greater than 4.3.
1. How to Subscribe to Apple Music Student Discount?
There are a couple of steps that you have to follow if you are a new subscriber to enable the Apple Music Student Discount for you.
On your Apple Device, go to Apple Music.
Hit 'For You.'
Look for a free trial and click on it.
From the options, choose 'Student.'
Click on 'Verify Eligibility.'
You will most likely land up on Unidays as soon as you click on Verify Eligibility. This is the place where your eligibility as a student will undergo verification. On successful verification, you will receive the Apple Music Student Discount directly.
First things first, you need to have an email address with the '.edu' extension. Post that, you just need to abide by a couple of rules to get done with the Unidays process. Once your account is verified via Unidays, you are done.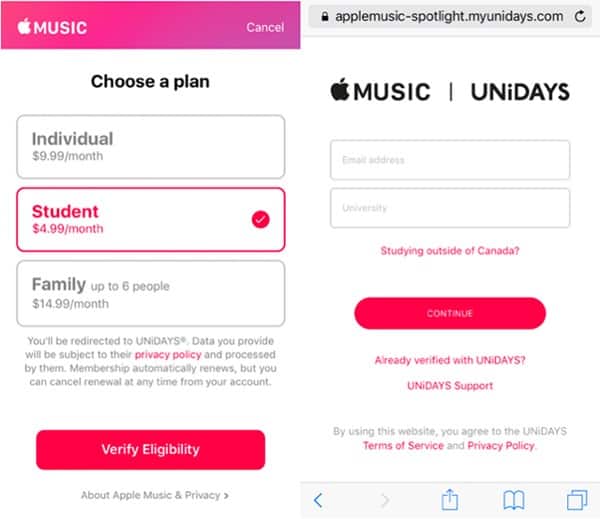 What if You Already Have an account Without Apple Music Student Discount?
This is one of the most genuine concerns of many students since Apple Music recently launched its student discount plan. Well, if you already have an Apple Music subscription even before you went to college, there is a way to get yourself a discount too.
Switching accounts is an easy job to do. It also depends on the device you are using. Therefore, below are the steps that you need to follow.
Go to your Device > Settings.
Look for your name, and click on it. Hit Subscriptions.
Click on 'Apple Music Membership.'
Hit Student ( 1 Month).
And you are good to go!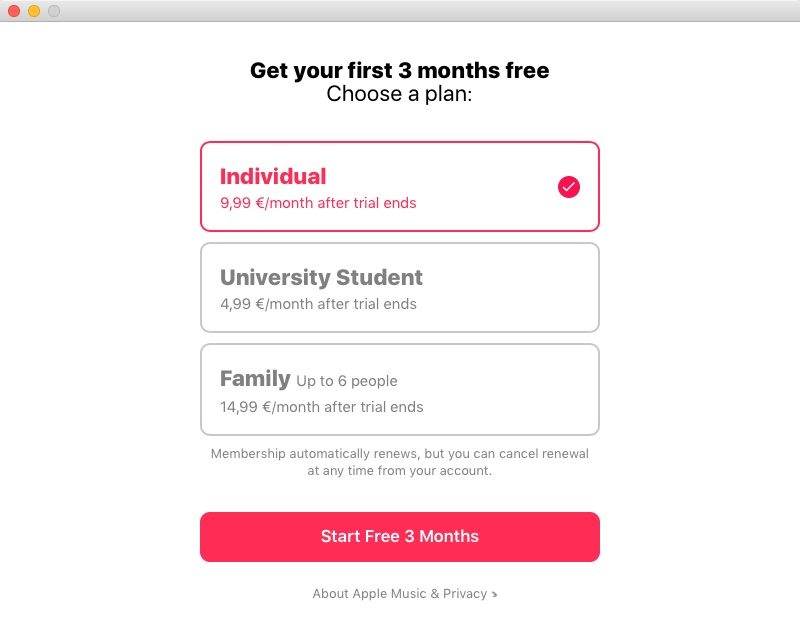 What does the Apple Discount offer?
All the features and benefits that Apple Music Student Discount offers individual plan brings consist of the same benefit but at half price.
Being a student has its own perks, and so have you. You get the trial version for 6 months with Apple music which is a steal deal. Additionally, once the subscription is over, you get a free one-month additional unlimited streaming at half price, which might sound unbelievable to you, but it is the truth.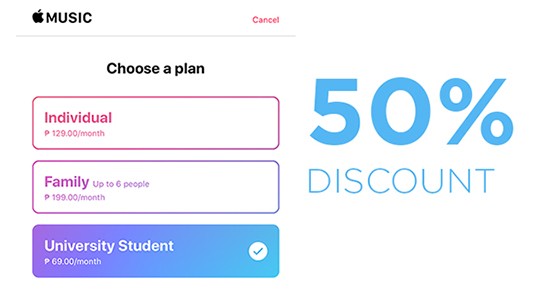 Summary
That was all we had for Apple Music Student Discount to help you get the subscription plan at half the price that your parents would pay. It is a great initiative by Apple; tons of students have already enrolled. Don't wait and get started already now that you know how to do it.