Pickup lines are probably the most clever ways to slide into someone's DMs and catch their attention. Who would like a plain old "Hey"? Everyone wants something interesting. Whether you are a man or woman you would obviously want to impress your potential match. To start a proper convo and draw their attention and interest towards you, a proper profile isn't enough you need a conversation starter that can impress them and also shows off your personality positively.
Whether you want to show off your humorous or cheesy side that's up to you. We have curated this article to help you out with some pickup lines that might help you out. We have something or the other in store for everyone whether you are the cheesy kind or the flirty kind, we are pretty sure you will be able to find something for yourself. Here is a list of different tinder pickup lines for guys.
Funny Tinder Pickup Lines for Guys
These pickup lines will surely help you show off the humorous side and make the conversation much more interesting.
You don't know how many times I had to swipe left to find you!
Hey, gorgeous will you be my Tinderella?
Do you believe in love at first swipe?
You must be a small amount of red phosphorous and I must be a tiny wooden stick….because we are a match.
Going to whole foods, want me to pick you up to anything?
Are you my appendix? Because this feeling in my stomach makes me want to take you out.
Is your personality as angelic as your hair?
I usually go for 8s but I guess I'll settle for a 10.
You are not vegan, are you? Because I would love to meet you.
Is your name Earl Grey? Because you look like hot-tea.
I wanna live in your socks so I can be with you every step of the way.
If God made anything more beautiful than you, I'm sure he'd keep it for himself.
I'm no organ donor but I'd be happy to give you my heart.
Do you drink Pepsi? Because you're so-da-licious!
If I could rearrange the alphabet, I would put 'U' and 'I' together.
If your heart was a prison, I would like to be sentenced for life.
I love you like a pig loves not being bacon.
You're like pizza. Even when you are bad, you're good
Let's commit the perfect crime: I'll steal your heart, and you'll steal mine.
Let's make like a fabric softener and 'Snuggle'.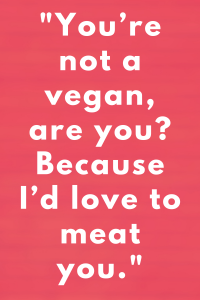 Successful Tinder Pickup Lines for Good Tinder Dates
Here are some of the pick-up lines that have actually worked on people.
Hello! *pretends to be a waiter*. Here is your icebreaker garnished with awkwardness.
I am writing a book right now. A phone book and it's missing your number.
Do you like dry fruits?[Yes]. Would you like to have a date with me?
Hey, I was writing an article on the finer things in life and I was hoping to interview you.
I forgot the password to one of my accounts and when I hit "password hint" it keeps saying "[Name]'s phone number. Can you help me out?
Roses are red, violets are blue, I'm free tomorrow, what about you?
My favorite thing to do is Netflix and cuddle………… It's like Netflix and cuddles but with [Name].
So I have been trying to come up with a good psychological pick-up line but afraid I cant.
Do you want to hear a joke about ghosts? [Yes.] That's the spirit!
Hey, I worked on an equation. You+Me=A good time. I checked the work I am sure it's mathemaddiecally/mathematically correct.
Do you like raisins? [Yes]. Sorry, I just checked and I am all out. Can I offer you date instead?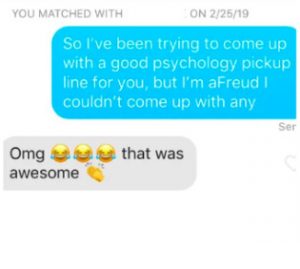 Cheesy Tinder Pickup Lines for Guys
Are you fond of cheesy pickup lines or want to make someone feel special? This category has lots and lots of cheesiness.
Are you a magician? Because whenever I look at you, everyone else disappears!
Did the sun come out or did you just smile at me?
 Hey, you're pretty and I'm cute. Together we'd be Pretty Cute.
Would you grab my arm, so I can tell my friends I've been touched by an angel?
Are you sure you're not tired? You've been running through my mind all day.
For some reason, I was feeling a little off today. But when you came along, you definitely turned me on.
Do you know what my shirt is made of? Boyfriend/girlfriend material?
I'm not a photographer, but I can picture me and you together.
I'm lost. Can you give me directions to your heart?
I seem to have lost my phone number. Can I have yours?
Hi, my name is Doug. That's "god" spelled backward with a little bit of you wrapped up in it.
Well, here I am. What were your other two wishes?
How was heaven when you left it?
If nothing lasts forever, will you be my nothing?
Do you like Star Wars? Because Yoda only one for me!
I like Legos, you like Legos, why don't we build a relationship?
Is your name "Swiffer"? 'Cause you just swept me off my feet.
Are you going to kiss me or do I have to lie to my diary?
Baby, you're so sweet, you put Hershey's outta business.
The only thing your eyes haven't told me is your name.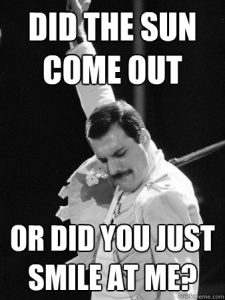 Dirty Tinder Pickup Lines
These will surely get you a hooked for a long time.  These will surely be a delight for people with a good sense of humor.
Is your name winter? Because you'll be coming soon.
Can you do telekinesis? Because you've made a part of me move without even touching it.
Are you a drill sergeant? Because you have my privates standing at attention.
Do you like to draw? Because I put the D in Raw.
Do you want to commit a sin for your next confessional?
 I'm not into watching sunsets, but I'd love to see you go down.
I don't think I want your babies, but I wouldn't mind refining my baby making technique with you.
I can tell you're into yoga, why don't you spend a little time showing me just how flexible you are?
Those clothes would look great in a crumpled heap on my bedroom floor.
Are you a raisin? Because you're raisin my dick.
I'm a bird watcher and I'm looking for a Big Breasted Bed Thrasher. Have you seen one?
Someone vacuum my lap, I think this girl needs a clean place to sit.
Was your dad a baker? Because you've got a nice set of buns.
I lost my keys… Can I check your pants?
Do you like whales? Because we can go hump back at my place.
I could've called heaven and asked for an angel, but I was hoping you're a slut instead.
One of my friends told me girls hate oral, do you wanna help me prove him wrong?
Want to see if you can add "has an awesome gag reflex" to your resume?
The FBI wants to steal my penis. Can I hide it inside you?
Do you have any Italian in you? Would you like some?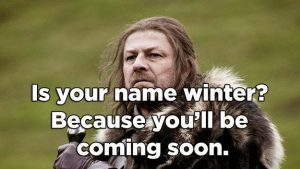 Pickup Tinder Lines for Women
These lines are exclusively made for women to impress their partner with their sense of humor.
Is your name David? Because I'm pretty sure you could have only be crafted at the hands of Michelangelo
I know why they call it a beaver. Because I'm dying for some wood.
They called me Ms. Dyson in college. Because I handle super smoothly and I love sucking.
I'm having a sale in my bedroom. My clothes are 100% off.
If I told you I worked at Home Depot, would you let me handle your tool?
Want to give me an Australian kiss? It's like french kissing, but you're going down under.
Am I on an episode of 'Fix This House'? Because I've never seen hardwood like that in real life.
I'm a French Horny for your Tromboner.
Do you know how to drive a stick? Because I sure as hell d0.
Are you a taxidermist? Ok, wanna try stuffing my kitty anyway?
I've got the buns, do you have the hot dog?
Is my vagina crying, or are you just sexy?
Hey boy, are you an Uber Pool? Cause I love when it's just us, but I'm also nervous someone else may come in and ruin this.
Are you the online order I placed a few days ago? Cause I've been waiting for you all day.
Happy Alentine's Day… I'll give you the 'V' later.
My body has 206 Bones. Want to give me another one?
I don't feel so good. I think I need a shot of penis-illin.
Do you know what would make your face look better? If I sat on it.
Do you know what would make your face look better? If I sat on it.
How do you like your sausage in the morning… grilled or blown?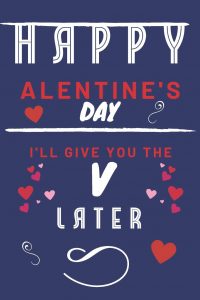 Conclusion
These are some amazing Tinder pickup lines that we have picked for you to enjoy. These pickup lines will surely buy you a date sooner or later. The different categories really help you explore all the sides and choose from a vast range. Use these lines wisely and enjoy a laugh together. Make sure you check their profile properly and choose lines according to that to increase your chances. Happy exploring.