You were just to play the game on Uplay and found this notorious issue of play not connecting. Even after waiting for hours and trying again this issue still keeps going on. You have landed on this page as you wanted to fix this issue of Uplay not connecting now. You are going to discover new and easy methods to bypass this issue.
Before we dive into our main topic let's give you a brief introduction regarding Uplay. Uplay is a game launcher very similar to steam, epic, and origin. It is actually a game distribution service where you can purchase, download, and play games in a very friendly environment. It is a very big hub for the gaming community and is very popular among gamers.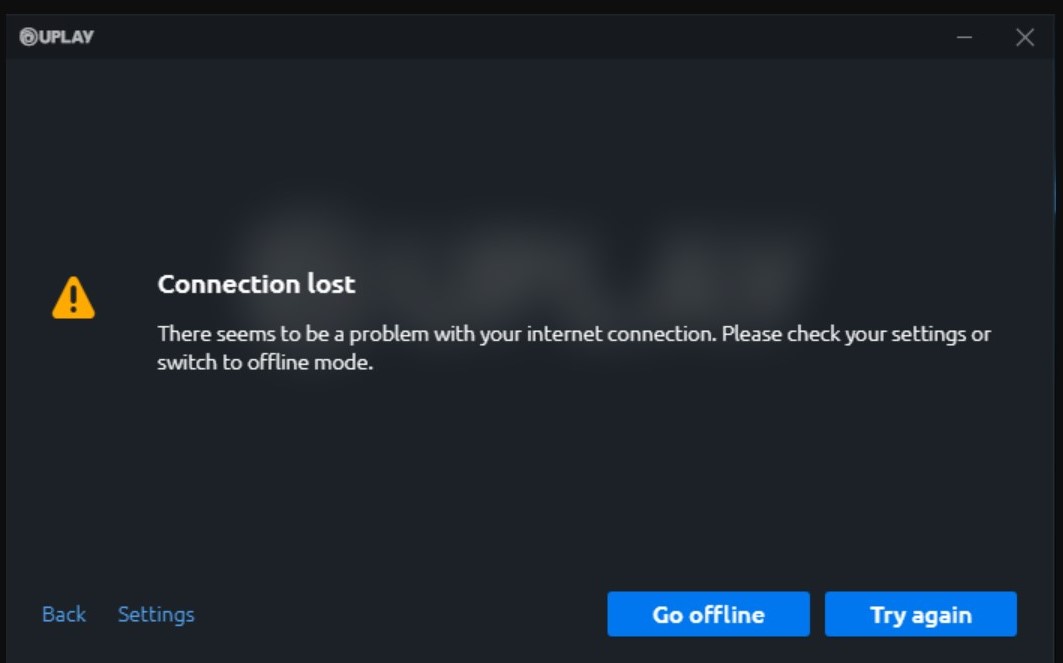 Its parent organization is Ubisoft.  Sometimes users get stuck in the situation Uplay stops connecting and gets some connection problems. If you have also encountered such a problem then this article is surely for you. You can go through this article if your Uplay is having connection problems. Some messages that are displayed mostly on user's screen are :
Uplay connection lost a Ubisoft service is currently unavailable
Connection lost there seems to be a problem
Uplay looking for patches then connection lost
Why does this Error occur?
Here are some reasons that might be responsible for this issue with Uplay.
Outdated Windows Firewall
Malicious Host Files
Running Too Many backgrounds files
Problems in settings of Uplay
All the solutions to these reasons are mentioned below. You can go through them to fix the issue.
How To Fix Uplay Windows PC Connection Issues
Here are some working methods to fix this issue of Uplay not connecting. Let's Begin:-
1. Update or Disable Windows Firewall
The first thing you should try is to set up your firewall. If it is disabled then you need to enable it and if it is enabled then check if it has got an updated version. Here are the steps that will guide you in enabling the firewall.
Press your windows button and type windows firewall.
Click the "open" on-screen of your computer.
Choose customize settings switch the toggle from On to Off.
2. Reset Host Files
Usually, windows use host files in the mapping of IP addresses to hostnames. Malicious files are also common to these host files. These malicious files result in certain internet connection issues. Follow these steps to resolve this issue:-
Firstly you need to download the default compresses host files online.
Now you have to extract the file and copy it to this location C:\Windows\System32\drivers\etc
 And Now replace the original file and you are done.
3. Disable Background Programs
Sometimes other applications and programs running in the background might also be the reason behind this issue. You can disable all the applications running in the background and then try connecting Uplay. Follow these steps to disable all applications running in the background.
Press and hold Win+R to open up Dialog Box.
Type Msconfig and press enter
Select a selective startup and also uncheck load startup items.
Save the changes and you are good to go.
4. Flush DNS Files
The main function of DNS is to keep the IP addresses of web servers that you have visited recently. Some of these files get old and damaged stopping the internet connection. Flushing DNS files might help you in fixing the issue of Uplay not connecting. Here are steps to Flush DNS files.
Open Dialog Box by pressing WIN+R
Type CMD and Run command prompt as administrator
When CMD opens type ipconfig /flushdns and hit enter. Your DNS has been flushed and you are good to go.
5. Change Settings
If you have turned On option of "Always start Uplay in Offline mode". Then you need to turn it off. You can also try changing proxy settings. Here are the steps that you need to follow.
Run Uplay on your device.
Go to settings and then uncheck the option of "Always start Uplay in Offline Mode".
If there is any flaw in settings then you can also change the settings by clicking Change Proxy Settings.
FAQs Regarding Uplay
Some common questions that come into the user's mind while facing this issue of Uplay not connecting.
Why Won't My Uplay connect?
The connection server is blocked. You need to add play to your exceptions list. This article covers all methods to fix this issue.
How Do I Fix Uplay?
Go and check if your firewall is blocking the way for Uplay. Try Flushing your DNS.
Conclusion
Uplay is really a nice platform to show your gaming skills. If you are skilled enough you will surely be recognized here. The good thing about Uplay is that it is very user friendly and provides you extensive support for its products.
So, guys, these were some working methods that would help you in fixing this issue of Uplay not connecting. Though we have added screenshots for your convenience but still if you are facing any difficulty in implementing these steps then please feel free to tell us in the comments section. We will surely help you further.