It gets extremely annoying when you get disruptions while gaming on your system. And, as observed recently, the Roblox error code 267 is one of the most received errors while gaming. But, what is this error code 267 in Roblox, what triggers it? and most importantly, how to fix it? Don't worry I've got you covered. I'll share some of the easy fixes you can carry out to kill this error instantly. Scroll down to go through them.
What is Roblox Error Code 267?
Error code 267 is a minor error that kicks you out of the game you're playing. It does this whenever the game any kind of detects suspicious activities from a user. Hence, error code 267  can be called the guard that tries to keep the game safe and free from all types of hackers and exploiters.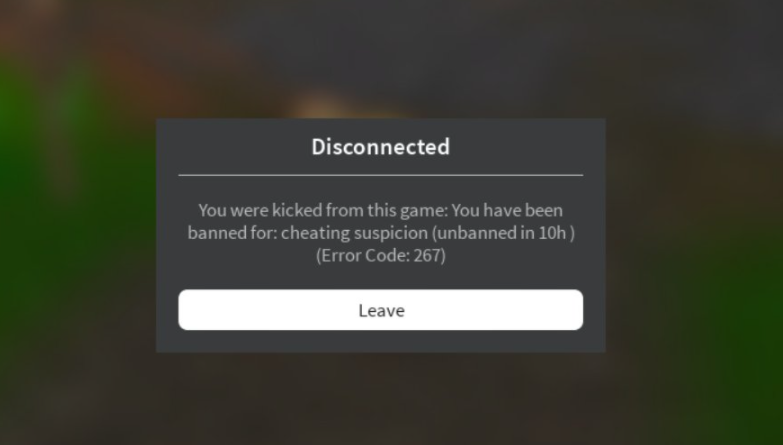 What Causes the Error Code 267 in Roblox?
Before you go on blaming Roblox for this error, keep in mind that it is not responsible for this error. This error occurs mainly because of the illegal script insertion by the game developer. In simple terms, when a developer uses a wrong command script during the game, it results in the error code 267. Hence, kicking the player out of the game in the conduct of the suspicious activity.
The suspicious activities that lead to the error code 267 include, blocking the Roblox game server by the windows Firewall, or using a blank or corrupted game file.
How to Fix Roblox Error Code 267?
As I said, one of the main reasons for the occurrence of this error is the insertion of illegal scripts. But the root of the problem can be different and there can be various reasons for it. So without wasting any more time, let us get directly to it. Use these fixes I've given below to completely eliminate the error code 267.
1. Jump to a Different Browser 
Using an outdated browser can usually give rise to this error. Always try to use advanced and updated browsers like Google Chrome. To do this, follow these steps.
Type default apps/ default programs in your device's search menu.
Under the web browser, you'll see your current default browser.

Change it and choose Google Chrome as your default browser.
If an outdated browser was the issue, this fix will instantly resolve your error code problems. Also, if you haven't, update your browser, and always try to use an updated version.
2.

R

eset Internet Settings
Resetting internet browser settings works in most cases while facing this error. You may have changed the internet browser setting which now is preventing you to use the application and disrupting your gameplay. In case you don't know how to reset it, follow these steps to do so.
In the search bar of your device, type "Internet Options".

You'll see the "Internet Options" button, click on it. It will open a small window.
In the above bar of the internet option's window, you notice the "Advanced" tab.
After clicking on it, click on the reset button below.

When the popup box asks your permission to reset all the settings, click on 'Reset'.
Launch Roblox again, and if this was the reason for the error code 267, doing this will erase it off immediately.
3. Internet Connection, VPN, and AdBlocker.
A weak internet connection can make your game crash and hence kicking you out. So, make sure you have a stable internet connection. Also, the troubleshoot option. Your operating system will automatically diagnose and fix any internet-related error. To do this, go through the following steps.
 Press Window key + I. This will open the settings window.
Select the Update & Security option from all the options you see.
In the Update & Security column, select Troubleshoot option and then the additional troubleshoot option under it.

Select Internet Connections and click on the 'Run the Troubleshoot".
Along with that, try using a good-quality VPN. As downloading and connecting it to a stronger network connection zone will help you if the internet connection or the connection zone was your issue.
Moreover, try disabling the AdBlocker as it can stop your game from loading, hence causing this problem. To do this, go to Google Chrome Settings and at the bottom, you'll see the Extensions option. Select the Adblocker, and disable it and relaunch Roblox. This will definitely resolve your problem these were the cases.
4. Wiping Out Cache 
If the network connection is not the root cause of your problem then try clearing all the Cache. Cache data are bits of information that make your app open faster. Although it is really helpful as it reduced the loading time. But, it also uses your device's space.
And, sometimes it can get corrupt or have an overloading issue which will result in this Roblox error code 267.  So, it is better to get rid of this data. You don't need to constantly clear it, but occasionally cleaning it will be better.
If you're not sure how to clear the cache data, don't worry, just follow these simple steps and you're good to go.
Open your Start Menu Button and search for the Run function. You can also do this by pressing the Windows Key + R.
Type %appdata% and press OK.

Now, this will open all your installed application's cache folders.
From those, select Roblox Folder and Delete it.
5. Roblox Utility tool
The Roblox utility tool will automatically examine all the bugs on your PC and fix them instantly. This will definitely work if some minor bugs and errors were your issue resulting in error code 267. All you need to do is just follow simple steps.
Download the error 267 Roblox utility tool on your PC and install it.
Launch the program and you will see the 'Scan now' option. Click on it.
Upon completion, it will show the 'Fix error' option, select it and wait till it's completely done.
After the process is complete restart your PC.
6. Uninstalling and Reinstalling
If the above solutions have not worked for you, then this is your final resort for now. Try uninstalling the application and then reinstalling it again. This will surely work if your application is corrupted. And, will fix the error code 267 instantly.
Final Words
I hope these above-mentioned fixes will solve your problem with Roblox error code 267. All you have to do is follow the steps given. Also, the problems I've mentioned are on of the most common causes for error code 267. But, eliminating them with the given fixes has proved to be useful for many users. Let me know in the comments below, if the solution is working for you. And, feel free to give any of your personal suggestions for fixing the error.